Regarding its territory Mátra is Hungary's second largest wine region. Viticulture and oenology has a tradition of more than 900 years in this region. Significant wine growing was performed on the southern slopes of Mátra already in the Middle Ages. The climate and the diverse volcanic soil of the land is favourable for the cultivation of numerous types of grapes. The white wines produced from grapes grown on the protected sunny mountain slopes are famous for their floral and fruity aroma. The most important vine varieties of the region include irsai olivér, olaszrizling, leányka, muscat ottonel, szürkebarát, sauvignon blanc and chardonnay. The Mátra Wine Region accounts for 40% of the country's grape and wine export.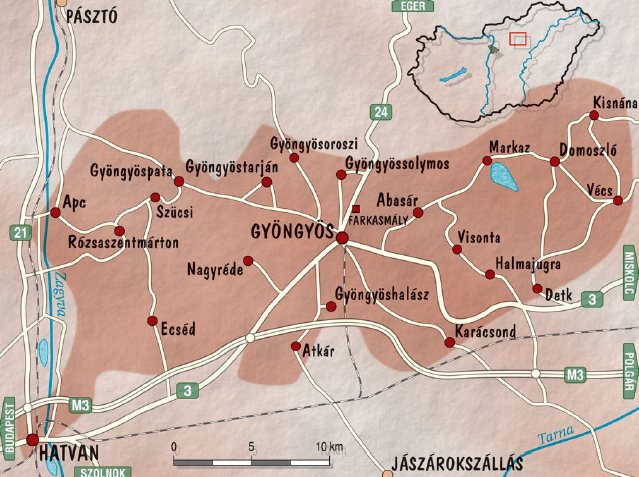 Gyöngyös, the town where our winery operates is the centre of the wine region that is protected from the extreme and inclement weather conditions by the Carpathian Mountains. Unfortunately, Mátra is less known as a wine region among wine fanciers. The 50 years of socialist economy destroyed the reputation of the region with 1000 years' winemaking traditions but it did not destroy its winemaking spirit thus high quality and excellent wines are produced again. Mátra is still a popular destination for nature walkers and holiday makers which inspired our image and also our label.
We cultivate today 123 hectares of vineyards the most of which is our own vineyard. Thanks to the continuous new plantations we produce and harvest vine varieties of improving quality which respond to changing market demands. We process mainly traditional types of Mátra in our estate.
We combine the traditional winery technologies with modern solutions in our vineyard estate. The harvest of the vineyard allows the production of almost 3000 hectolitres of wine per year and we plan to achieve 5600 hectolitres in a few years.